---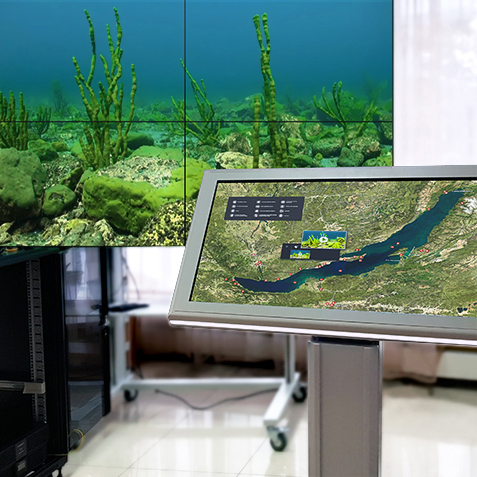 Soflab-NSK is involved in a project to create interactive installationsfor the Exhibition Centre of the Siberian Branch of the Russian Academy of Sciences.
To date, SoftLabNSK have created:
- exposition "Lake Baikal"
- guide to the exhibition "Science of Siberia"
- exposition "Novosibirsk Scientific Center"
- exposition "Siberian Ring Photon Source (SKIF)".
Exhibition stands comprise video walls and multisensor interactive tables.The intuitive interface of the screens allows you to view the exhibitions both independently and with the help of a guide. When exploring the exhibits information can be transferred from touch screens to a video wall.
These immersive interfaces attract new visitors to the Exhibition Centre.
Client:

Siberian Branch of the Russian Academy of Sciences
English
---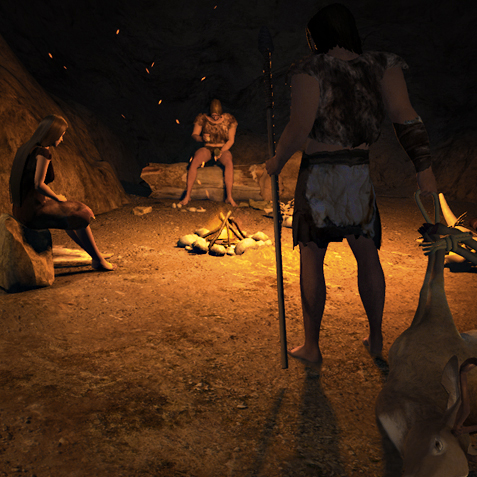 A virtual exposition for the multi-user interactive stand, reconstructing paleolytic human daily activities, based on research made by Novosibirsk State University archeology department.
The exposition is a 3D virtual space, created on motives of the Denisovan cave, combining the past and the present. With the aid of virtual reconstruction and 3-dimensional animation, visitors are simultaneously acquainted with the activities of an ancient human as well as with the methods of archaeologists, unique finds and artifacts.
Client:

Novosibirsk State University.
English
Sincere attention to the wishes of the client, useful professional advice, enthusiasm in doing their job - all this allowed to create a remarkable exposition, which has no analogues in the museums of our country and, perhaps, the world.
---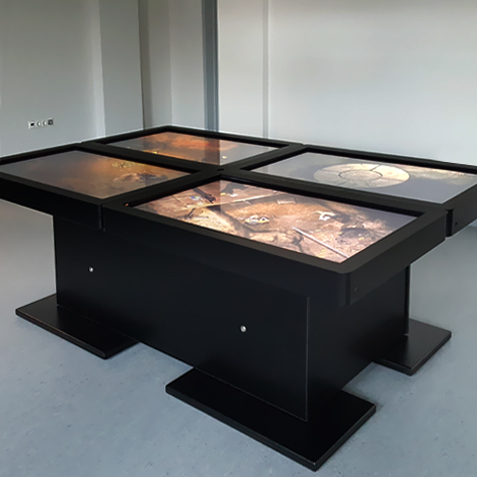 A collaboration with Novosibirsk State University resulted in two installations for its Museum of Archaeology: The Denisovian and Art Beyond Time. We have used interactive solutions such as 3D animation and graphics, digital reconstruction, holographic projection, content for touch screens, interactive games, video content for multimedia and video walls.
The Denisovian exhibition is housed over four multisensory tables and comprises 3d reconstruction of Palaeolithic man's activity as well as modern-day archaeological methods. Our content makes the information easily accessible, with 3D graphics and animation playing to the strength of the exhibition. The museum guide is able to relay the information to other multimedia devices, thus allowing the visiting audience to view the artefacts in detail.
The exhibition Art Beyond Time is an educational interactive display of ancient man's rock art. There are two parts: petroglyphs and palm prints. The petroglyphs part explains the rock art techniques, while the palm prints section allows the visitors to simulate the process of printing their own hand prints on the virtual rockface. The effect of the visitors' presence 'inside the cave' is intensified through the use of software which recognises the individual's exact location and projects the beam of their 'torch' onto the rockface of the cave's interior.
Client:

Novosibirsk State University.
English